| | | |
| --- | --- | --- |
| | Welcome to the FCPPL2008 workshop | |
In the past few years, a strong cooperation activity has grown up between Chinese and French scientists involved in high energy physics. Moreover, several topical workshops organized in France and in China have contributed to pave the road to the creation, early 2007, of the France China Particle Physics Laboratory so-called FCPPL. The aim of this joint laboratory is to reinforce and further structure cooperations between France and China in particle physics. Therefore, following its creation in 2007, cooperation programs have been set up and funded through this laboratory.
The main purpose of this first workshop is to present, review and discuss the various ongoing and future activities performed by Chinese and French scientists within the FCPPL framework. These activities will be put into context by a few review talks at the beginning of each session. Moreover, throughout this workshop, discussions between scientists from both countries will foster and reinforce these cooperations as well as develop new ones. Finally, the opportunity of having all those scientists, as well as some of the main actors of the research in Particle Physics from France and China, lead to organize, during this workshop, a dedicated session on "The Future of Particle Physics in Asia and Europe".
We are pleased to invite you to this first workshop. It will be held at the CPPM, the Marseilles Particle Physics Centre, from the 14th of January 2008 to the 17th of January 2008. Then, on the 18th of January 2008, a close session of the FCPPL steering committee will be held which will review the ongoing and future laboratory actions.
For all useful information to plan your trip, please click here
Looking forward to seeing you in Marseilles,

Group picture during the workshop :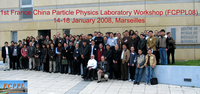 The local organizing committee: Marie-Aimée Durrleman, Fanny Lessous, Emmanuel Monnier, Thierry Mouthuy, Angélique Pèpe, Charling Tao

To contact us, fcppl2008@cppm.in2p3.fr